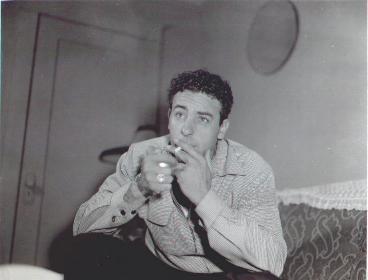 My dad's movie career started around the age of nineteen, when an actor named Johnny Carpenter helped him get his Guild card. That card started a journey that most people can only dream about.
Johnny starred in westerns for the most part, which was right up my dad's alley. He grew up in Texas, was tall, about 6 ft. 4 inches, handsome with black curly hair and hazel eyes and was very handy with horses. He had rodeoed; he could trick ride, roman ride and train a horse with the best of them.
In those days, stuntmen and stuntwomen gave a new meaning to "on the job training". It was learn while you earn and a lot of the earning was bought with bruises, broken bones and a fair amount of spilled blood. Movie fights, horse falls, saddle falls, sword fights, car gags and high falls were just a few of the abilities that had to be mastered in the day in the life of a stunt-person. They didn't use big air bags to fall into in those days; they used old mattresses and cardboard boxes. For horse falls and saddle falls, pile up "that sand boys"! But, either way, that ground was mighty hard. When things went right, they received applause from the crew. When things went wrong, well, that's another story.
My father was also excellent with a gun. He taught lots of actors fast draw and fancy gun tricks. Kirk Douglas, Ricardo Montalban and Vic are just three of many. He was also good with a sword and did countless knife fights. And when it came to acting, he did his fair share. Studios loved to cast him as a killer, a cowboy, or an Indian. Though he did play Vera Miles' love interest, Chief Thunderhawk, in "Charge At Feather River." He almost got the girl, but Guy Madison put him out of commission. And that's him in "Timbuktu," picking up the watch that Vic throws across the sand to divert his attention, then proceeds to zap him into movie heaven!
Stunt-people get killed off a lot in the movies! In fact, there have been several movies that my father has appeared in, where he played the part of a cowboy and an Indian. He would just keep changing clothes and died several times in the same scene.
In the many years that he was in the picture business, he has doubled for such actors as John Carroll, Cesar Romero, Jeff Chandler, Rory Calhoun, Rock Hudson, Marlon Brando (The Wild One), Clint Walker, Rod Cameron, Anthony Quinn, Richard Boone and Vic, of course, just to name a few.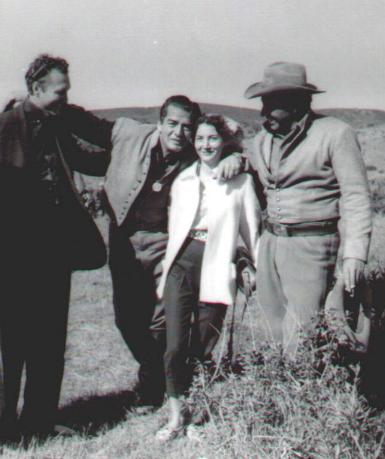 The first movie that dad worked with Vic on was "Million Dollar Mermaid." He and Vic formed not only a great working relationship, but also, a very close friendship. My dad and Vic were buddies for decades and to me Vic was family.
The movies that Vic and dad appeared in together were - "Million Dollar Mermaid," "The Las Vegas Story," "The Robe," "Dangerous Mission," "Demetrius and the Gladiators," "The Egyptian," "Chief Crazy Horse," "China Doll," "Escort West," "Timbuktu," and "The Big Circus." They would have done more movies together, but so many times my dad would be tied up on another show and couldn't get out of it.
In 1964, Vic and my father went to Europe to do a movie. It was going to be shot in Spain. The producer made a deal with Vic to have a certain amount of money in the bank when he arrived in London. Upon Vic's arrival, the money was not there, but after talking to the producer, again he promised Vic to have it in the bank by the time Vic got to Spain. Upon Vic and dad's arrival in Spain, there was still no money to be found. So, Vic promptly got on a flight and flew back to London. My dad had been hired as a Stunt Coordinator on a Spanish production and stayed on in Spain for awhile. The producer and Vic could not come to terms and Vic couldn't care less about this dude's flick! Vic and dad had sailed to Europe on the Queen Elizabeth and sailed back to the USA on the Queen Mary. Rough work, but somebody had to do it! The producer eventually sued Vic for $1.1 million dollars and as far as I know, he didn't get anything, except what he deserved for trying to rake Vic and my dad over the coals. No movie and he had to pay for the transportation to and from Europe for them.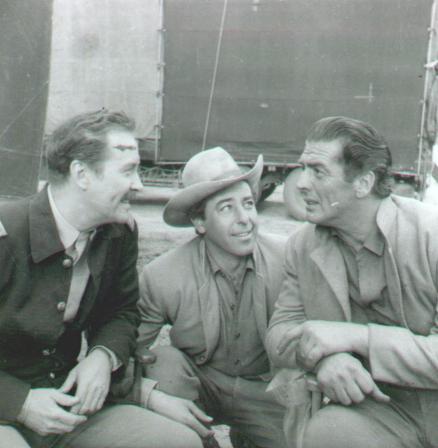 I always found it amusing when Vic would visit our house. Females that I wouldn't see for months, except for a wave here and there, would show up at the door in packs to borrow something or they just had to see how the Carsons were doing and it couldn't wait a second longer! Watching my dad and Vic as they got out of the car and walked towards the house was quite a sight. They looked more like brothers than my dad and his real brother did. They had similar personalities and both of them had a wild sense of humor.
The first time I met Vic in person, I was just a little kid, but I vividly remember how he looked. He was dressed in black slacks, black dress loafers, a white dress shirt and a white sport coat. He was tan and his raven colored hair was striking. That picture burned right into my brain! He poked his head into the car and kissed my mom, then he came over to where I sat in the back seat and planted a big kiss on me. To say that he was beautiful is the understatement of the century! He talked to me for a little bit, then he reached into his pocket and handed me a $10 bill. He put his hand on my face, gave me a wink and said "spend two and save eight". I thanked him and told him that I was saving up to buy a bike and I would just save it all. Well, that got me a big smile, another kiss and a bear hug!! There are some things that happen in one's life that are never forgotten, my first encounter with Victor Mature was one of them!
Looking back now on my father's career, it was really remarkable. He worked with some of the most talented people in the industry and many of them were more than co-workers they were his friends. Vic and my dad had the great fortune of being in the business when Hollywood meant glamour, beauty and a movie star was really a star. The studios have had to change with the times. But, some things never change. Today, as in the past, actors like Vic could be the hero, get the girl, fight the bad guys and win, all without a scratch on them or a hair out of place. And stunt-people like my dad may go home bruised and bleeding, but, they know that they did what they came to do, make the actor look good; that's their job and they take great pride in their work!!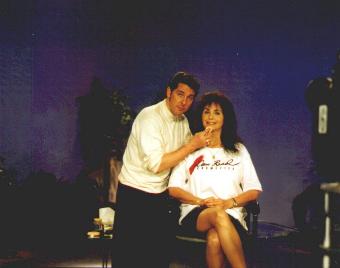 Though sometimes friends drift apart and pass on, friendships always live in treasured memories and deep in the heart. But, with Vic and dad and so many like them, their work lives on in films for generation after generation to enjoy. And their work on the "Silver Screen" allows them to live forever in our memories and in our hearts.
Written by Dixie Carson
September 2000