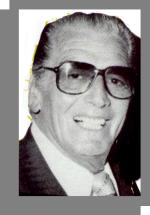 FREQUENTLY ASKED QUESTIONS
With many fans discussing Victor's heritage and family tree recently I thought it would be a good idea to start a F.A.Q. of the most asked questions about Victor and his life. We'll start out with just a few and add more as we go along. If there are more you'd like added please just let me know and I will add them right away! :) Thanks so much! (This list, of course, wasn't made to discourage you from writing and asking me questions. I always love to hear from Victor's fans so please continue to write! :)
1. WHAT IS VICTOR'S FULL NAME?
Victor's full name was Victor John Joseph Mature (originally listed as Victor Joseph Mature on his birth certificate).
2. WHAT WERE HIS PARENTS NAMES?
His father was Marcello (Marcellus) Gelindo Maturi (Mature). His mother was Clara (Ackley) Mature.
3. WHEN WAS HE BORN?
He was born on January 29, 1913.
4. WHAT RELIGION WAS HE?
4. Victor was Catholic.
5. CAN YOU TELL ME ABOUT HIS FAMILY?
Victor was very happily married to his lovely wife Lorey from 1974 until he passed away in August of 1999. They have one daughter, Victoria.
6. CAN YOU TELL ME WHICH MOVIES VICTOR APPEARED IN?
A list of Victor's movies can be found here.
Special thanks to Victor's friends and acquaintances for helping me with this! :)