LIFE SHOULD BE A BALL! 1963
Special thanks to Don Conroy for this article! :)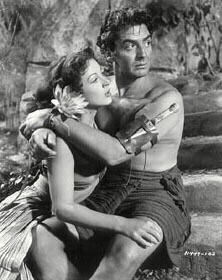 He's a large man, 6'2", and his 198 pounds are solid muscle and evenly distributed. His heavy lidded eyes, aquiline nose and pouting lips have dominated America's motion picture screens for over a quarter of a century. At fifty years of age, Victor Mature shows very little sign of wear. He has a formula for success, and if the formula breaks right he'll be around for a long, long time yet.
He stretches, yawns, and faces an interviewer with the same languid charm that has been his hallmark for so many years. "My motto is this. Take it easy. If the time is ripe, it'll all break for you. Everything eventually breaks right for me; I just relax."
He laughs and one is immediately taken in by his ease, his good humor. "Everything's so frantic nowadays. The younger actors and actresses treat this business like a like or death struggle. It can be that, if you permit it. Everyday you hear about one or another aspiring talent cracking up or killing themselves. My feeling is: you've got to have lasting power, endurance. In the end it'll all work out."
If ever an actor has had a charmed career, it has been, Victor Mature. The relaxation, the devil-may-care attitude is not a pose with him; it is as natural as breathing.
A very old friend tells this story about Mature: "When Vic first came out to the coast - oh, I guess that must have been around 1937 - he was something to see. He was around twenty then and absolutely the coolest, most good natured guy I had ever met. He had come from a fairly well-to-do family and had had a bit of money of his own at one time, but when he decided to become an actor he had given it all up. He had enrolled at The Pasadena Playhouse, and was living on next to nothing. He would sleep in a hallway one night, on a park bench another night. Nothing seemed to phase him.
"I'd say, 'you know Vic, if you expect to make it you have to have a little substance. You need clothes, a place to live.' He'd laugh, and wink, and tell me: 'When I was fifteen years old I was making $300.00 a week on my own as a candy salesman. By the time I was nineteen I owned my own restaurant. I can always make a buck. But this acting thing interests me. If I make it, I make it. If not, there's always plenty of time to make money.'
"Fantastic. And wouldn't you know it, by the time he was twenty-three Hal Roach had spotted him in a play at Pasadena and gave him a juicy little role in The Housekeeper's Daughter. The next year he was a star."
The story of Mature's success is still legend around Hollywood. He was cast by Hal Roach to appear in a cameo role in the 1939 feature; Roach had spotted Mature in Ben Hecht's To Quito and Back, which was being done as a stage project at The Pasadena Playhouse. The part in the film lasted no more than five minutes; it was the role of a lovesick gangster. No one thought it was much of a part, and it was perfectly acceptable that an unknown would play it. But Mature's dark good looks, his rich voice and relaxed manner had an electrifying effect on the screen: the studio received over 20,000 fan letters and his career was spectacularly launched.
Someone else in the industry commented on Mature's skyrocketing to stardom: "Let's face it. What Victor Mature projected on that screen was sensuality, pure and simple. He had those great soulful eyes and that sexy mouth, and the women of America just flipped. Coupled with his physical appeal was his manner: it was just so darn self-indulgent and hedonistic, like a large contented cat, that girls just swooned. He epitomized a sort of complacent, calm masculinity."
Mature is a man who moves gracefully and confidently through life, stirring up small legends all around him. One well-known story deals with his arrival in Hollywood. He was born in Louisville, Kentucky, the son of a prosperous executive in commercial refrigeration. His father had been an Austrian immigrant, a self-made man, who started out in New York City as a scissors grinder. The father had travelled all through the east and south plying his trade town to town. When he reached Louisville he decided to settle down. The scissors grinding trade prospered and he soon married one of the local belles, the daughter of a well-to-do doctor.
From scissors grinding, the elder Mature gradually expanded into other enterprises, so that by the time Victor was born in 1913, the family was fairly well off.
Young Victor seemed to have inherited his father's business ability. He had little use for school and a great thirst for enterprise. At thirteen he was active in managing his father's scissor grinding routes, by fifteen he had branched out into wholesale candy jobbing; and by the time he graduated from high school he was investing in his own restaurant. But his restless nature somehow wouldn't permit him to stay with business. He turned over all his enterprises to his family and decided to strike out for Hollywood on his own.
He came to California with a minimum of assets, so the story goes, and immediately wired his father: "Arrived here with 11 cents and ambition." His father, it is said, immediately cabled back: "Forty-three years ago I arrived in New York from Austria with 5 cents and could not even speak English. You are 6 cents up on me."
Mature, no doubt, got a huge kick out of his father's bland appraisal of the situation. He may have arrived in Hollywood with eleven cents, but his impecunious situation was certainly temporary. He breezed through the two years at the Pasadena Playhouse, landed a role in the Hal Roach film, and from 1939 on proceeded to mold one of Hollywood's most durable careers.
The film immediately following The Housekeeper's Daughter, and the one that firmly clinched his hold on Hollywood stardom, was One Million B.C. made in 1940. Mature played the lead role of "Tumak," opposite Carole Landis, and the sight of this large, languid giant of a man in a loin cloth was spectacular.
He immediately became the super symbol of Hollywood male beefcake. His ample physique and classic profile soon became standard fare on fan magazine covers all over the country. He was dubbed by females throughout the United States as "Mr. Beautiful" or "Irresistible Male" and Mature, of course, gloried in it. He was also quick to realize the publicity value in such passionate appraisals of his physiognomy, and he began to almost parody this hyper male sexuality in interviews and photographs.
By 1947, however, he had tired of the role of male beefcake champ, and was determined to change his image. "Sure, the body beautiful thing served a purpose," he said later. "It was great publicity when I needed it. I did silly things to attract attention. It worked. Now I want to forget it."
His opportunity came from veteran Hollywood director Henry Hathaway, who cast him in a serious role, the part of the reformed gangster in Kiss of Death. He turned in a performance of great depth and comparison. The critics were immediately forced to re-evaluate the extent of his talent.
Since Kiss of Death in 1947 Victor Mature has established himself as one of our most versatile and interesting actors. Through it all, he has maintained his down-to-earth quality, his sense of proportion, his charming insouciance.
The respect that Mature commands among his fellow Hollywood actors stems from this ability to keep everything in perspective. He once told an interviewer: "I check Victor Mature at the sound-stage door. I play the parts straight. I try to become the guy the script says I am. When the job is done though, then I relax. Life should be a ball, you know."
He stretches, laughs, winks.
He moves with calm relaxation, an admirable acceptance of life.
Yes, younger stars flash across the Hollywood skies, sometimes distributing momentary blinding light, but in the end, like summer meteorites, their brilliance is quickly gone.
One the other hand, Victor Mature, one senses, will be around for a long, long time...