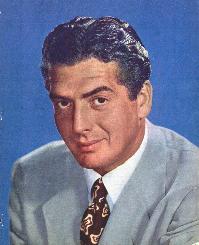 VICTOR
JOHN
MATURE
January 29, 1913-August 4, 1999


GOD'S GARDEN
God looked around His garden and found an empty place,
He looked down upon the earth and saw Victor's weary face,
God put His arms around Vic and lifted him to rest,
God's garden must be beautiful; He only takes the best,
God knew that Vic was suffering; God knew he was in pain,
He knew that Vic would never get well upon this earth again,
God saw the road was getting rough and the hills were hard to climb,
So He closed Vic's weary eyes and whispered "Peace be thine."
Vic didn't deserve what he went through and so God gave him rest;
God's garden must be beautiful, for He only takes the best,
It broke our hearts to lose him, but he didn't go alone,
For part of us went with Vic the day God called him Home.


4 AUGUST 1999: It's been a time of such incredible loss and sadness. Victor passed away on August 4, 1999, at his home in Rancho Santa Fe after a three-year battle with cancer. Victor was one of the true gentlemen of Hollywood and was a very respected man who always was there to help a friend and had a gentle heart. He was the epitome of the perfect man with charm, humor and kindness. He was a very talented actor who gave us so many wonderful films. He will be missed more than words can say.
Our deepest sympathy goes to the entire Mature family on the loss of their beloved Victor.
The Mature's Matinee Fan Club will continue as a tribute to Victor, his wonderful career, and to the amazing person he was.
We will all miss you, Victor, more than words can ever say...


(Thank you to one of Victor's fans for this poem.)